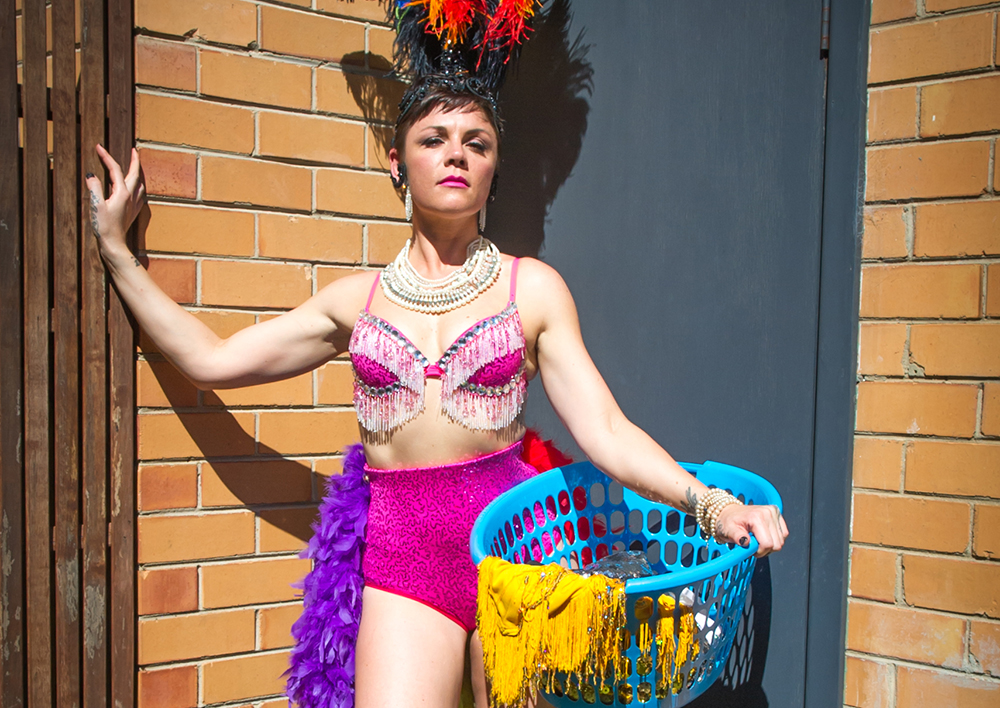 In a world where it is increasingly difficult to know who is real, who is fake and who is 100 per cent media managed, Em Rusciano stands in a class of her own. Accessible, open and refreshingly honest, Em represents an authenticity severely lacking in the entertainment industry. Avery editor Sarah Hausler spoke to Australia's current queen of comedy about motherhood, teenagers, and the surprising places life can take you.
T
alented, brash, entertaining and entirely likeable, Em has become the poster girl for busy Australian Mums. Now living her dream of travelling the country telling stories and making people laugh from the stage, Em represents something so many of us crave in our own lives. The freedom to be 100 per cent ourselves.
While it's a freedom that doesn't come without hard work and sacrifice, the chips are currently falling firmly in Em's favour, her critically acclaimed sold out stand up show 'Em Rusciano is Not a Diva', a testament to that.
At the risk of using a well worn reality television cliché, it's been a long journey for Em Rusciano to get to this point. From a "surprise" pregnancy at age 21, a stint on Australian Idol, through a struggle with postnatal depression and a long term separation from her husband, Scott, which very nearly became a divorce, Em has successfully transitioned her personal challenges into material for her wildly successful shows.
It is unsurprising so many of Em's fans are mothers, when so much of her cabaret-style comedy is about the trials and tribulations of life as a woman, wife and mother.
But while she is currently enjoying critical acclaim for her professional achievements, what really lights Em up is her role as a mother to her two daughters Marchella, 14 and Odette, eight.
Though the recent onset of bickering between her tween and teen daughters is currently "breaking her balls", for Em, parenting is now a much more positive experience than when her girls were young, an outcome which flies in the face of warnings she once received about the perils of parenting teenagers.
"I'm really proud of my relationship with my eldest daughter," she says of her first born, Marchella.
"Everyone kept warning me that it was going to be shit when she was about 14, but here we are now and she's a gem."
"I mean, we have our moments – she can be a dickhead and I can be a dickhead, but she's pretty good at pointing that out and I'm pretty good at pointing that out, so I think we have a healthy understanding."
It's a long way from those early, scary days of parenting, during which Em freely admits to having "no idea what I was doing", a sentiment not unfamiliar to generations of mothers throughout history.
"I didn't know if I was scarring them, I didn't know if I was doing the right thing. I've definitely grown in confidence as a parent as I've gotten older."
While she acknowledges her unplanned pregnancy with her eldest was "disastrous" at the time, what it gave her was the ability to begin her parenting journey with a clean slate, free from preconceived notions about how to parent, or what sort of a mother she should be.
"I was a kid when I had her, I really was, and we've kind of grown up together," she says.
"I try and parent remembering the kid in me, that's probably the only rule I really have and everything else I make up as I go along."
Besides sequins and a bit more glitter, there's not a lot of difference between stage Em and real life Em
This philosophy has been a cornerstone to building the open, honest relationships she now has with her children.
"If you're telling the truth, its just less things to remember," she says.
"It's so hard to remember the lie you've made up."
It's a level of honesty which is crucial for someone who lives her life so brightly in the spotlight. All that she shares with her fans, she also shares with her daughters, albeit through an age appropriate lens for youngest daughter Odette.
"They handle it really well, but that's how they know me," she says of her girls' response to having a public figure for a mother.
"Besides sequins and a bit more glitter, there's not a lot of difference between stage Em and real life Em, so they've grown up with me being like that."
For any performer who uses their private life as fodder for material there's an inherent risk to those personal relationships. Which is why, in contrast to how open she is about her own life on social media, Em is more cautious about how much of her daughters' lives she shares.
"Chella's very vocal on whether or not I'm allowed to put things up (on social media)," she says.
"My eight year old doesn't mind, she loves it. But they're very different girls, and Marchella's at an age now where she's trying to figure out who she is and what her identity is, and I understand her wanting to do that away from the public eye."
Despite her caution, like many mothers in the public eye, Em is not immune to attacks over her credentials as a parent, particularly over social media.
While such intense criticism may send many women to the wall, wracking them with shame and self-doubt, Em barely lets the barbs scratch the surface, exhibiting an admirable level of self-confidence when it comes to her parenting.
"One thing I'm rock steady on is that I'm a fucking good mother," says Em.
"I look at my two kids every night as confirmation of that. Anything anyone says just kind of rolls off, because those two are such brilliant humans that their Dad and I have obviously done something right. So people can criticise all they want, but the proof is in my children and they're pretty awesome."
I have this fierce 200,000-odd strong army of amazing women who will just jump on top of anyone who has a go at me… they're just incredible.
What also helps is her legion of adoring female fans, ever ready on social media to offer support and solidarity should someone choose to take her on, whether it's over her language, or most recently an unexpected response to a post about bacon.
"I have this fierce 200,000-odd strong army of amazing women, and some men, who will just jump on top of anyone who has a go at me," she says.
"I don't really need to do much in defence of myself, because they're just incredible."
Em Rusciano on...
Parenting - It's the hardest thing and the best thing you'll ever do. It breaks your balls and it makes your heart burst all in five minutes.

Her own parenting style - Loosely firm with occasional bouts of 'mother military mode'.

Contentment - I'm always afraid if I ever admit to contentment, the universe will throw lightning at me. I've had some really awful curveballs hit when I've thought things were okay... so part of me is ever vigilant, hands up, in defence mode, ready for whatever gets sent at me.

Teens and social media - You've got to teach them, you've got to arm them, you can't monitor them, that's just a losing battle. You have to teach them and trust that you're doing a good job, so if they do come across porn, or whatever, they know how to handle it and what to do.

Protecting our children - I think we need to find a middle ground between wanting to put GPS trackers in their ears and sending your kids out for 10 hours at a time and saying come home when the street lights come on.

Pushing herself - I guess I have never felt good enough. I've always felt like I was really very hard on myself from a very early age. I was a perfectionist from very early on and I've always been trying to prove myself.

Feminism - I am proudly raising two feminists. All that means to us is that they get the same opportunities as men do. I'm raising strong kick-ass girls who won't take shit from anyone and who will hopefully contribute to the world in a positive fashion. That's all I want from them.